Home
/ Company / What's New
Upside Outlook Emerging: WTI Will Sustain /bbl Or More
Upside Outlook Emerging: WTI Will Sustain /bbl Or More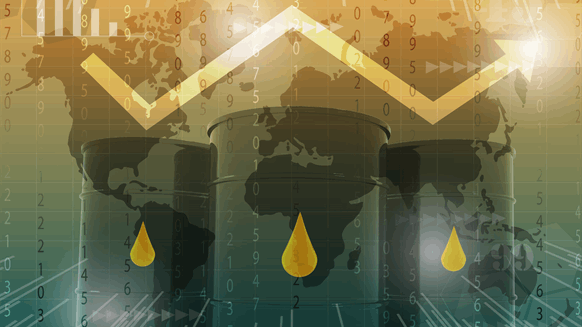 WTI oil prices are likely to remain relatively stable around /bbl into mid-2018.
.
WTI oil prices are likely to remain relatively stable around /bbl into mid-2018 as surplus inventories remain high. The outlook changes thereafter, of which the market appears unaware.
Without higher prices, world oil supply is unlikely to keep up with continuing growth in global demand. In 2020 and beyond, the risk of an oil shortage is high. Without a geopolitical event, WTI is expected to be relatively stable well into 2018. It is then likely to increase in 2H18 with a decline surplus inventories related to the seasonal ramp up in demand.
Geopolitical uncertainty added a risk premium to oil prices due to the overwhelming in favor of Kurdistan's independence. In response, Turkey threatened to choke off crude oil exports. If implemented, the quarterly impact on world oil supply would be a reduction of 52 million barrels, which would accelerate the return to a market balance and likely result in higher oil prices in response.
If it isn't implemented, excess global crude oil inventories are likely to remain high over the next 12 months. A 57-million-barrel increase is indicated in 1Q18 with the seasonal decline in demand, posing a temporary downside risk to oil prices as it occurs. In August, the surplus was still 170 million barrels larger, but down from a 318-million-barrel surplus earlier in the year.
The growth in Permian Basin production and the recovery in Libya and Nigeria have prevented OPEC from achieving the goal of its production cut. Their combined production will likely be adequate to meet the growth in world oil demand into mid-2018. The outlook changes thereafter.
Permian Is Unlikely to Grow as Rapidly
Despite robust growth even with low oil prices in 2017, annual production increases in the Permian Basin will likely be smaller in the coming years. In December, it will be up 640 million barrels per day (MMbpd) year over year (Y/Y). Current estimates of the future peak in Permian oil production, while varied, indicate lower annual trend-line increases than in 2017.
And there is downside risk to these forecasts. In addition to low oil prices and oil field service cost inflation, which could negatively impact drilling activity, they also include geology and pipeline takeaway capacity.
Increasingly closer spacing of wells to drain reservoirs may result in a reduction in productivity of later infill wells by as much as 20 to 30 percent compared to the productivity of initial wells drilled. A much lower near-term peak in Permian production would result as sweet spots are depleted. Still, technology is a wild card that could offset the negatives.
The pace of the build-out of adequate pipeline takeaway capacity might also constrain the growth in production. In August 2014, the Midland price blew out to a .10/bbl discount to WTI, penalizing Permian producers because of a lack of pipeline capacity. The WTI-Midland differential recently was $.35/bbl. The next pinch could occur in 1Q18! Midstream companies are careful not to overbuild.
Total 3Q17 U.S. crude and liquids production was 12.85 MMbpd. It is projected to increase by 1.11 MMbpd Y/Y. However, growth in the U.S. oil directed rig count flattened and reversed in recent weeks which will slow the growth in production 6 to 8 months later, about 2Q18. The overall growth in U.S. production will likely be smaller in 2018.
Pioneer Natural Resources, a leading producer in the Midland sub basin, believes " oil isn't going to get it done," because it doesn't generate enough cash flow and the industry has too much debt. "U.S. production may grow for 2 to 3 years and a few independents may grow, but we are in a long term price environment," the company said in a recent release.
Outside of the United States, other non-OPEC production is expected to remain relatively flat through 2018. Russia is fully compliant with its agreement with OPEC to cut production.